Day 1 :
Keynote Forum
The University of Texas, USA
Time : 09:00-09:25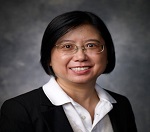 Biography:
Li Zhang has completed her PhD at UCLA and Post-doctoral studies at MIT Department of Biology. She is the Cecil H and Ida Green Distinguished Chair in Systems Biology Science at the University of Texas at Dallas. Her laboratory has studied heme signaling and functions for more than 20 years and published many original research articles and a book entitled Heme Biology: The Secret Life of Heme in Regulating Diverse Biological Processes on this subject. Her laboratory has also helped unravel the functions of molecular chaperones, oxygen signaling, and the actions of neurotoxicants. Recently, her lab has investigated the function of heme in lung cancer, providing a unifying view of cancer bioenergetics in a review article entitled "A holistic view of cancer bioenergetics: Mitochondrial function and respiration play fundamental roles in the development and progression of diverse tumors", published in the journal Clinical and Translational Medicine.
Abstract:
In 1920s, Otto Warburg made the observation that cancer cells utilize significantly more glucose than normal, healthy cells, which led him to believe that cancer cells relied on glycolysis more than healthy cells. However, many subsequent studies have shown that glucose is not only necessary for glycolysis but also for oxidative phosphorylation and the production of building blocks for the synthesis of other molecules. There are many challenges associated with studying and treating lung cancer, and there is a diverse set of metabolic factors influencing the tumorigenesis and metastasis of lung cancer. Lung cancer cells rely heavily on mitochondrial respiration, and several studies have shown that inhibiting mitochondrial function is an effective method to combat lung cancer. Several agents have been used to inhibit mitochondrial function, including cyclopamine and metformin. Further, more research has noted that increased levels of heme flux and function are critical to intensified oxygen consumption and accompanying amplified pathogenesis and progression of lung cancer. The upregulation of mitochondrial DNA and biogenesis genes are also correlated with lung cancer. Recent experimental data will be presented to show that targeting tumor cell bioenergetics can suppress lung tumorigenesis and progression.
Keynote Forum
University of Pittsburgh School of Medicine, USA
Time : 09:25-09:50

Biography:
Jianhua Luo has been studying molecular mechanism related to human malignancies since last 24 years. Currently, he is a Professor of Pathology and Director of High Throughput Genome Center at University of Pittsburgh. In the last 16 years, he has been largely focusing on genetic and molecular mechanism of human prostate cancer and hepatocellular carcinomas. He has characterized several signaling pathways that play critical role in prostate cancer development, including Myopodin-ILK-MCM7 inhibitory signaling, myopodin-zyxin motility inhibition pathway, CSR1-CPSF3, CSR1-SF3A3 and CSR1-XIAP apoptotic pathways, MT1h-EHMT1 egigenomic signaling, ITGA7-HtrA2 tumor suppression pathway, GPx3-PIG3 cell death pathway, AR-MCM7 and MCM7-SF3B3 oncogenic pathways. He proposed prostate cancer field effect in 2002. He is one of the pioneers in utilizing high throughput gene expression and genome analyses to analyze field effects in prostate cancer and liver cancer. He is also the first in using methylation array and whole genome methylation sequencing to analyze prostate cancer. Recently, his group found that patterns of copy number variants of certain specific genome loci are predictive of prostate cancer clinical outcomes, regardless tissue origin. His discovery of several novel fusion transcripts and their association with aggressive prostate cancer has brought significant new insight into the field of prostate cancer research. Overall, these findings advance our understanding on how cancer develops and behave, and lay down the foundation for better future diagnosis and treatment of human malignancies.
Abstract:
Cancer remains one of the most lethal diseases for human. Oncogenic fusion gene is one of the fundamental mechanisms driving the progression of human cancers. MAN2A1-FER, a fusion gene between the mannosidase domain of MAN2A1 and tyrosine kinase domain of FER, was found in 6 different types of human malignancies. MAN2A1-FER fusion translocated FER domain from cytoplasm to golgi apparatus, and led to phosphorylation of N-terminus of EGFR and activation of EGFR signaling pathway. Expression of MAN2A1-FER generated dramatic increase of growth and invasion of cancers, while removal of MAN2A1-FER through knockout generated significant lower level of growth and metastasis. The presence of MAN2A1-FER increased the sensitivity of human cancers to FER kinase inhibitor crizotinib or EGFR kinase inhibitor canertinib. Hydrodynamic tail-vein injection of MAN2A1-FER gene resulted in rapid development of liver cancer in mice with somatic Pten deletion. Taken together, we concluded that MAN2A1-FER fusion gene is one of the key drivers for human cancer development.
Keynote Forum
The Chinese University of Hong Kong, China
Time : 09:50-10:15

Biography:
George G Chen is a Professor in the Department of Surgery, Director of Surgical Research Laboratories, Faculty of Medicine, the Chinese University of Hong Kong, China. He has extensive experience in cancer research. He has authored or co-authored more than 190 papers and has written a number of books or book chapters.
Abstract:
Lung cancer is one of the most prevalent and lethal cancers in the world. The majority of lung cancer is associated with cigarette smoking. Most patients are usually at the advanced stage when diagnosis and thus not eligible for surgical resection, a curable treatment for lung cancer. Therefore, it is critical to diagnosis of lung cancer at early stage. However, so far, there is not a reliable and practicable method for early detection of lung cancer. In this study, we tried to test whether 15-lipoxygenase-1 (15-LOX1) and 15-lipoxygenase-1 (15-LOX2) and their metabolites, 15(S)- hydroxyeicosatetraenoic acid (15S-HETE) and 13-S-hydroxyoctadecadienoic acid (13S-HODE) could be used for the early detection of lung cancer. We found that the levels of 15-LOX1, 15-LOX2, 15S-HETE and 13S-HODE were significantly decreased in non-small cell lung carcinoma (NSCLC), especially those who smoke. Animal experiments were also evident that smoking-induced lung tumor in mice were associated with marked increase of both 15S-HETE and 13S-HODE. Importantly these reductions predated the formation of lung cancer in mice. We have also measured these biomarkers in smokers, smokers with chronic obstructive pulmonary disease (COPD) because both smokers and COPD are known risk factors for NSCLC. We found the levels of 15S-HETE were decreased in some smokers, particularly smokers with COPD. Taken together, our finding suggests that 15-LOXs and 15S-HETE are significantly decreased in NSCLC and that the reduction may serve as biomarkers for the early detection of lung cancer.